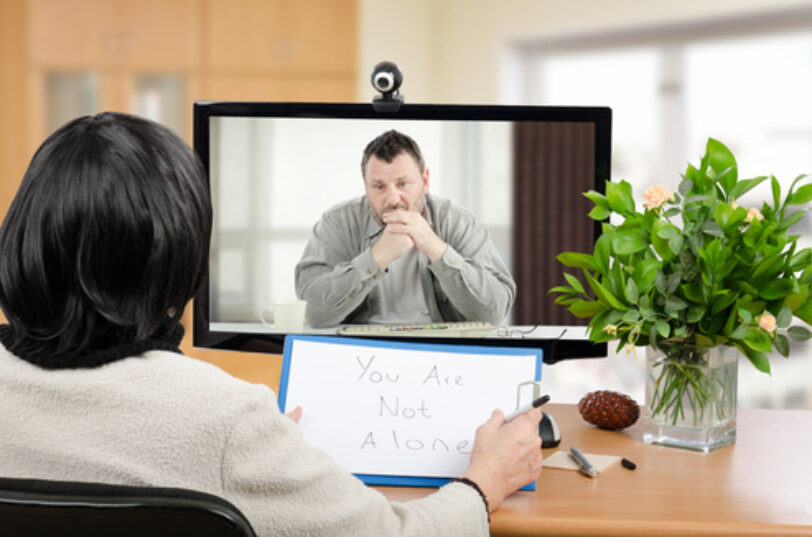 Call 888.515.3834 to learn more about the benefits of our telehealth programs. Telehealth is a great option for anxiety & mental health.
We all experience anxiety from time to time. However, prolonged and severe anxiety can interfere with our ability to function and prevent us from living life to the fullest. Anxiety may be caused by stressful events in life, or it may seem to appear out of nowhere.
There are many types of anxiety, ranging from general anxiety (worrying about everything or worrying about worrying) to social anxiety, fearing judgment from others. Others may have a specific phobia that affects their ability to leave the house or perform specific tasks.
When anxiety occurs, people may experience a variety of physical symptoms and become overwhelmed by worry or fear. At times, these emotions can escalate to a terrifying panic attack.
When anxiety affects your ability to function in everyday life, joining a therapy program can provide relief. Therapy can help individuals uncover the source of their anxiety, work through their emotions, and develop important problem-solving skills to address symptoms and improve their quality of life.
If you have anxiety, however, leaving the house to attend therapy sessions can be a source of stress and anxiety.
For this reason, telehealth therapy programs can be an excellent option for treating anxiety. Telehealth therapy allows access to effective mental health services using remote technologies.
Not only do telehealth therapy programs offer the same effective care as in-person therapy, but they also provide many benefits for people with anxiety. These benefits can include saved time, more comfort, greater options, and more convenient care.
Travel is Eliminated
Traveling to a facility can be a significant barrier when attending in-person therapy. People may not want to drive to treatment if they are already juggling a busy schedule.
Residents of remote areas may lack access to therapists and must travel long distances. Others may not have reliable transportation. These factors can make it challenging to attend in-person therapy appointments consistently.
With telehealth services, individuals do not have to travel for therapy. As long as they have internet access, they can speak to their therapist from the comfort of their home. With advancements in technology, people can now access effective anxiety care from a computer, laptop, tablet, or phone.
Talking with a therapist may take place through video chat or over a phone call. Without traveling, patients have more time and often feel less stressed about making and attending appointments.
In addition, greater convenience can make people more likely to stick with their care plans and not skip appointments.
Additional Therapist Options
Selecting a therapist with whom you feel comfortable opening up to is crucial in successful anxiety treatment. However, searching for the right mental health provider can sometimes be time-consuming and stressful.
If you live in an area with limited providers, finding a therapist who is the right fit may also be challenging. With telehealth therapy programs, you gain access to hundreds of mental health providers across the country.
This can make finding a provider best suited to your needs much easier. You can also change providers more easily if you feel they are not the best fit.
As with in-person therapy, telehealth services are staffed with licensed mental health professionals trained to treat anxiety and other mental health conditions.
These providers may include psychiatrists, psychologists, licensed therapists, substance abuse counselors, social workers, nurse practitioners, and other mental health providers.
Now that people have access to a variety of mental health professionals, finding the best provider for their specific needs is much simpler.
During telehealth visits, treatment will be very similar to an in-person session. You can see and talk with your mental health provider. They will guide you through different forms of therapy to help address the root cause of your anxiety and develop strategies for reducing your symptoms.
You can ask questions and talk about any concerns you may have. If your treatment program requires anxiety medication, you will be paired with a provider who can prescribe and manage your medication.
Sessions in the Convenience and Privacy of Your Own Home
If you have anxiety, going to in-person therapy sessions can sometimes be stressful. The fear of experiencing a panic attack can prevent some people from leaving the house.
Social anxiety can make others feel nauseous, sweaty, and uncomfortable around others in public. Specific phobias may also prevent someone from leaving their home. Furthermore, anxiety can be exhausting, causing fatigue and loss of motivation.
When you aren't feeling like yourself, you can feel unmotivated to get out of bed, get dressed, and drive to your therapy session.
In telehealth therapy, you can talk to your therapist virtually from the comfort of your home. As a result, many feel more comfortable and relaxed during therapy appointments without the need to leave the house, travel, or interact with the public.
An environment where one feels safe can often motivate people to continue their treatment and open up to their therapist more easily.
Finally, telehealth services are more convenient. Many of us lead busy lives, and finding the time to work with a therapist can be challenging. Taking care of a family, having a busy work schedule, or attending school are all things that can get in the way of receiving care.
With telehealth therapy, people can save time without driving to a clinic. They also gain more flexibility with scheduling appointments. For example, you can now fit in an appointment during a work trip, on a lunch break, or in between classes. In addition, many programs offer appointment times in the evenings or weekends.
Reduced Wait Time
The CDC reports that 11.7% of adults over 18 regularly feel anxious, nervous, or worried. As that number is expected to increase, mental health clinics are facing an influx of new patients and are experiencing long wait times.
Patients who have to wait for long periods to see a provider may be less likely to schedule an appointment. Long wait times for treatment can also be discouraging when you have anxiety.
As a result, many patients wait to seek treatment until their condition worsens or they experience a crisis. Taking this risk could result in much higher healthcare costs down the line when issues are potentially more severe.
With telehealth therapy programs, individuals no longer have to wait weeks or months to speak with a mental health provider. Access to hundreds of mental providers across the country now makes it easy to schedule an appointment and see a therapist in a fraction of the time.
Additionally, telehealth platforms can streamline administrative processes, such as improved scheduling, appointment reminders, reduced paperwork, and improved communication with your therapist. As a result, operations are improved and the time to see a therapist is reduced.
Lower Health Risks
The COVID-19 pandemic of 2020 drastically altered how outpatient care is delivered in medical practices. Many providers have moved in-person appointments to telehealth visits to reduce the chances of infecting patients and staff.
In the past, exposure to COVID-19 or other illnesses would require individuals to reschedule their appointments and quarantine at home. However, with telehealth therapy, individuals no longer have to worry about exposing themselves to diseases during their appointments. Instead, they can speak to their therapist at home without interacting with the public.
In addition, going to a public place and potentially coming into contact with germs or illnesses may be stressful and frightening for people with certain anxiety conditions or phobias.
In the past, this may have deterred people from seeking treatment. With telehealth therapy, however, people with anxiety can reduce their stress and fear without worrying about catching germs or illnesses.
In addition, having less stress and anxiety can often help people feel more comfortable during their therapy sessions and make it easier to discuss their emotions and thoughts with their therapist.
Anxiety Care with CHE
If your anxiety symptoms become debilitating and prevent you from enjoying life, you may be suffering from an anxiety disorder. However, with more access to effective and convenient care, you don't have to deal with anxiety alone. Our support team is available to help.
At CHE Behavioral Health Services, we provide a caring, supportive environment where you can explore the source of your anxiety and find solutions to help you thrive.
Whether you are going through a significant life event, dealing with a phobia, or struggling to control worry in your life, our mental health providers offer personalized treatment programs to help you feel better and improve your quality of life.
To learn more about the mental health services and providers at CHE Behavioral Health Services, please call 888-515-3834. We are ready to talk, and ready to listen.