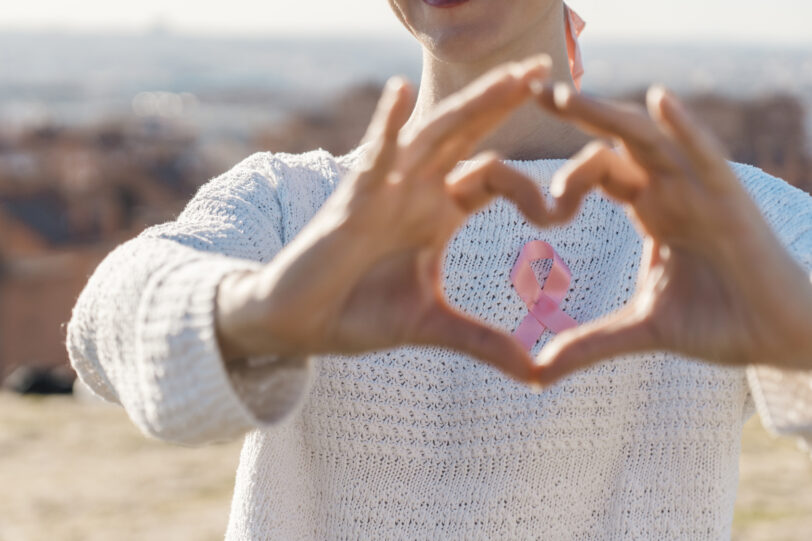 Every 14 seconds, somewhere in the world, a woman is diagnosed with breast cancer. If detected in the earliest stages, the survival rate is nearly 100 percent.
October is Breast Cancer Awareness Month
Every 14 seconds, somewhere in the world, a woman is diagnosed with breast cancer. If detected in the earliest stages, the survival rate is nearly 100 percent. However, for cancers detected in later stages, that rate drops to around 25 percent. Due to exponential progress in advocacy, awareness, early intervention, diagnosis, and treatment, there has been an overall 40 percent decline in breast cancer deaths over the last 30 years.
Women are considered to be at high risk if they have:
Known BRCA gene mutations
Lifetime "risk assessment" score of 20 percent or greater using the Tyrer-Cuzick scale.
A first-degree relative (parent, sibling, or child) with a BRCA gene mutation but no genetic testing for themselves (Nayee, 2023).
A history of chest radiation between ages 10 to 30 years.
First-degree relatives or a personal history of rare genetic disorders such as: Bannayam-Riley-Ruvalcaba syndrome, Cowden Syndrome, and Li-Fraumeni Syndrome (Nayee, 2023).
Breast Implants
Used/are using hormone-based prescription(s)
Heavy Alcohol consumption
Obesity
How Do You Get Screened?
The tests and procedures often used to screen for breast cancer include:
Screening for average risk:
Ages 40 to 44: Optional mammogram yearly
Ages 45 to 54: One mammogram yearly
Ages 55 and older: One mammogram yearly or every other year (Nayee, 2023).
Screening for high risk:
Ages 30 and above: One mammogram yearly
One additional breast MRI yearly if recommended by your healthcare provider
What Other Tests And Procedures Are Available?
The tests and procedures listed below are not part of the routine breast screening schedule.
Breast ultrasound
Genetic testing to detect mutations associated with breast cancer
Clinical breast exam (CBE) and breast self-exam (BSE) ( Nayee, 2023).
Take the initiative for your breast health by doing the following:
Discuss with your medical provider to see if early detection may be needed for you.
Learn how to do a breast self-exam.
Eat a diet rich in vegetables, fruits, and whole grains, and low in red meat and alcohol.
Avoid processed foods, fried foods, and a high-sugar diet.
Limit sedentary behavior. Adults should get 150 minutes of moderate intensity exercise per week.
The American Cancer Society does not recommend the use of dietary supplements for cancer prevention. Avoiding low Vitamin D is recommended. (ACS, 2023)
Consult with your health care provider the frequency needed for having mammograms. Discuss any possible barriers for testing, such as health insurance coverage, language barriers, or lack of comprehension of the health care organization. Free mammography is available.
Exciting MIT Breakthroughs:

MIT researchers have created a wearable device for early breast cancer detection at home. Lead authors Wenya Du, Lin Zhang, Emma Suh, and Dabin Lin, in collaboration with Canan Dagdeviren, Associate Professor at MIT's Media Lab, designed the wearable device to mimic ultrasound probes' efficiency used in clinical settings. The device's portable, user-friendly nature provides real-time monitoring of breast tissue, addressing a vital need in breast cancer diagnosis. The device is portable and easy to use and provides real-time, user-friendly monitoring of breast issues. (Trafton, A. 2023).
The MIT researchers also designed a flexible, 3D-printed patch, which has honeycomb-like openings. The ultrasound scanner fits inside a small tracker that can be moved to six different positions. The scanner can be rotated from different angles and does not require any expertise to function. This device can assist in early detection and early diagnosis of breast cancer. One of the main obstacles in imaging and early detection is the commute that women have to make to receive testing. This eliminates the need for women to travel to an imaging center. (Trafton, A. 2023). Kudos to the MIT team for advancing medical technology and amazing breakthroughs!
It is evident that we need to have a better understanding of the reasons for the increase in early onset cancer by identifying treatment strategies, holistic approaches as a choice, spiritual care, palliative care, partnership, collaboration, and distribution of resources.
For 40 years, Susan G. Komen has been leading the fight against breast cancer by funding breakthrough research and ensuring all people get the care they need. You can find out more about resources for cancer patients by going to www.cancercare.org or www.patientresource.com. For additional information and resources regarding gynecologic cancers (breast, cervical, metastatic breast cancer, ovarian, uterine) please visit sharecancersupport.org.
Author: Virginia Lee, LCSW-R, MSW, MS ( PsyD in progress) at CHE Behavioral Health Services. Mile Swim Across America participant.
References:
American Cancer Society ACS Guideline (2023) at https://acsjournals.onlinelibrary.wiley.com/doi/full/10.3322/caac.21591
Nayee, E. (2023, August). Know Your Breasts: The Importance of Early Detection for Breast Cancer. Oncology Health Content Writer
Trafton, A. (2023, July). A wearable ultrasound scanner could detect breast cancer earlier. MIT News Office