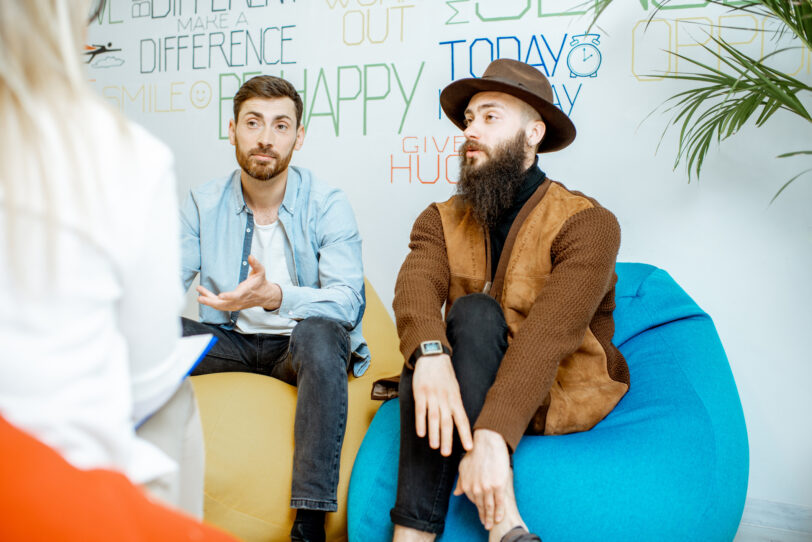 According to The Trevor Project LBGTQ+ youth, "are not inherently prone to suicide risk because of their sexual orientation or gender identity, but rather placed at higher risk because of how they are mistreated and stigmatized in society.''
LGBTQ+ and Mental Health
According to the National Alliance on Mental Illness (NAMI), LGB, transgender, and non-binary individuals are disproportionately more likely to have a mental health condition compared to heterosexual, cisgender people (NAMI, 2013).

Injustices including systemic oppression, heterosexism, transphobia, bullying, social/family rejection, discrimination such as loss of employment, denial of civil and human rights, harassment, and hate crimes are traumatic experiences that can lead to identity based shame, which causes or exacerbates mental health conditions for a person. According to The Trevor Project LBGTQ+ youth, "are not inherently prone to suicide risk because of their sexual orientation or gender identity, but rather placed at higher risk because of how they are mistreated and stigmatized in society.'' When the injustices mentioned above intersect with race, heterosexism, and/or socioeconomic status, it can further compound these traumatic experiences which can lead to even worsened mental health symptoms for the person. There are also associated health risk factors that LGBTQ+ people experience at a higher rate than the general population, which is why it's important for medical and mental health professionals to learn and use LGBTQ+ affirming practices.
When a person identifies as LGBTQ+, the threat of victimization is everywhere.

Some medical and mental health providers lack cultural competency, which causes the individual to fear disclosing their gender identity and/or sexual orientation. Intentional or unintentional microaggressions by providers and other office staff can deter individuals to seek or continue treatment, leading to poorer health outcomes. Microaggressions, such as misgendering, may further compound the person's trauma and further alienate a person who has been routinely victimized. A lack of access to supportive and LGBTQ+ affirming health care creates barriers to the person's treatment.
LGBTQ+ people are also more vulnerable to depression and suicidal ideation than heterosexual and cisgender people.

In terms of youth, based on The Trevor Project's research, "the organization estimates that more than 1.8 million LGBTQ youth (ages 13-24) seriously consider suicide each year in the U.S. - and at least one attempts suicide every 45 seconds." There are LGBTQ+ medical and therapy practices who are practicing inclusive and affirming care, educating themselves, training their staff of cultural competence, and updating their forms to be more inclusive. More places are becoming aware of the importance of inclusion and how it promotes safety, acceptance, and better outcomes for people in this community. If you belong to the LGBTQ+ community and are struggling to manage mental health symptoms (depression, trauma, anxiety), please consider treatment.
People who identify as LGBTQ+ are also more likely to experience substance abuse or substance use disorders.

According to the Addiction Center, "An estimated 20-30% of the LGBTQ+ community, compared to about 9% the population as a whole." Victimization and social injustices are traumatic and alienating experiences which can lead to unhealthy ways of coping. Individuals in this community are also more likely to experience workplace discrimination and loss of employment, leading to lower socioeconomic status and increased vulnerability of experiencing homelessness compared to the general population. According to the organization LGBTQ+ Youth Homelessness, research has shown that LGBTQ+ teens "Have a 120% higher risk of some form of homelessness" and "disproportionately experience homelessness compared to their straight and cisgender peers." Some forms of homelessness include couch hopping or being street homeless. Many teens experience family rejection and are kicked out of their family homes when they come out. Family rejection and homelessness for LGBTQ+ teens is a major social issue and there are several U.S. programs including The Trevor Project, True Colors United, and the National Network for Youth working to support these teens and ameliorate teen homelessness.
Understanding these risk factors is one way health care professionals can increase their cultural competence.

It's important for health care professionals to understand the implications of systemic oppression, societal rejection, the threat of victimization, and the risks that affect these individuals. Medical and mental health professionals should to practice LGBTQ+ affirming practices in order to help support these individuals to improve their treatment outcomes and improve social and economic issues to promote a more just, equal world for the LGBTQ+ community.
Talking with a trained licensed therapist can help.

With CHE Behavioral Health Services, you don't have to face life's challenges on your own. Our network of experienced mental health professionals can teach you how to manage stress more effectively and provide you with tools for improving your quality of life. With comprehensive stress management services, we address the source of your stress, allowing you to find lasting relief.
For more information about stress management and treatment options offered by CHE Behavioral Health Services, please call 888-515-3834. We are ready to talk, and ready to listen.
Work Cited:
Kovalick, Carrie. "LGBTQ+ Youth Homelessness." National Network for Youth, nn4youth.org/lgbtq-homeless-youth/.
LGBTQ and Addiction - Addiction in LGBTQ Community - Addiction Center." AddictionCenter, 2017, www.addictioncenter.com/addiction/lgbtq/.]
National Alliance on Mental Illness. "Diverse Communities | NAMI: National Alliance on Mental Illness." Nami.org, 2013, www.nami.org/Your-Journey/Identity-and-Cultural-Dimensions/LGBTQI.
The Trevor Project. "Facts about LGBTQ Youth Suicide." The Trevor Project, 15 Dec. 2021, www.thetrevorproject.org/resources/article/facts-about-lgbtq-youth-suicide/.
Makenzie Pacubas, MSW, LCSW (they, she)
CHE Quality Assurance Associate
Makenzie is a clinical social worker who has worked in the mental health field for over a decade and now works in clinical quality assurance with CHE Behavioral Health Services. Makenzie lives in Missouri with her husband, Justin, and their two pets. She likes to exercise, read, get outdoors, and try new restaurants.