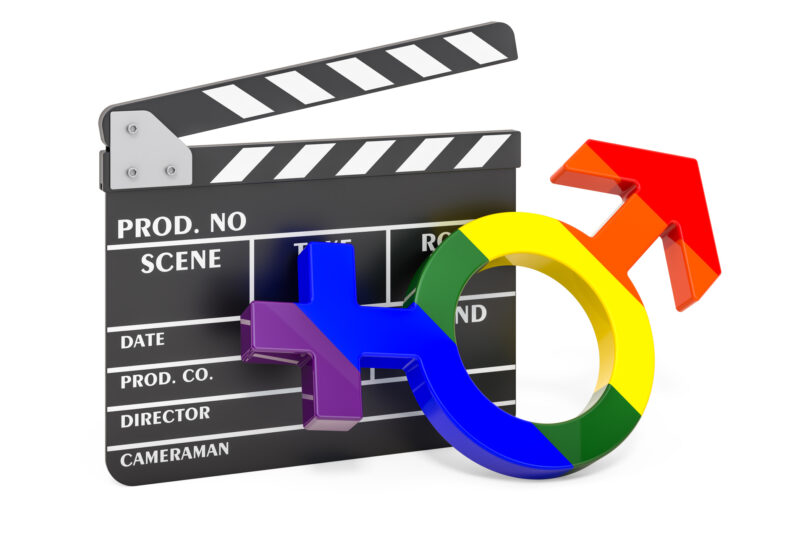 As our world becomes more accepting of broader and more diverse identities, it is important to have a better understanding of LGBTQ+ community, the history and become an ally of support.
Movies and TV Shows to Celebrate LGBTQAI+ PRIDE Month
As the years go by, LGBTQ+ representation in Hollywood is becoming more prominent and mainstream, with the community finally getting the chance to have their stories told authentically. Here are a few movies and shows to check out to celebrate Pride.
A Girl Like Me: The Gwen Araujo Story
A 2006 American biographical drama television film directed by Agnieszka Holland and starring J. D. Pardo, Mercedes Ruehl, and Avan Jogia. It premiered on Lifetime in the United States on June 19, 2006. The film dramatizes the events surrounding the 2002 murder of Gwen Araujo, a transgender teenager who was murdered after acquaintances discovered that she had male genitalia.
Milk
A 2008 American biographical film based on the life of gay rights activist and politician Harvey Milk, who was the first openly gay man to be elected to public office in California, as a member of the San Francisco Board of Supervisors. Directed by Gus Van Sant and written by Dustin Lance Black, the film stars Sean Penn as Milk, Josh Brolin as Dan White, a city supervisor, and Victor Garber as San Francisco Mayor George Moscone.
Uncle Frank
A 2020 American comedy-drama film written, directed, and co-produced by Alan Ball. The film stars Paul Bettany and Sophia Lillis. Set in the 1970s, Uncle Frank is a road movie about a gay man who confronts his past.
Green Book
A 2018 American biographical comedy-drama film directed by Peter Farrelly. Starring Viggo Mortensen and Mahershala Ali, the film is inspired by the true story of a 1962 tour of the Deep South by African American pianist Don Shirley and Italian American bouncer and later actor Frank "Tony Lip" Vallelonga, who served as Shirley's driver and bodyguard.
The Object of My Affection
A 1998 American romantic comedy-drama film directed by Nicholas Hytner and starring Jennifer Aniston and Paul Rudd. The film was adapted from the novel of the same name by Stephen McCauley and the screenplay was written by Wendy Wasserstein. The story concerns a pregnant New York social worker who develops romantic feelings for her gay new friend and decides to raise her child with him, and the complications that ensue.
A Secret Love
A 2020 American documentary film, directed by Chris Bolan. Ryan Murphy serves as a producer on the film, while Jason Blum serves as an executive producer under his Blumhouse Productions banner. It stars Terry Donahue and Pat Henschel.
Queer Eye
An American reality television series, initially released February 7, 2018 on Netflix. A reboot of the original 2003 series produced by Bravo, each episode has five advisors spend a week applying their expertise to help improve someone's life situation.
The Birdcage (watch now Amazon, Apple TV)
A 1996 American comedy film directed by Mike Nichols, adapted by Elaine May, and starring Robin Williams, Gene Hackman, Nathan Lane, and Dianne Wiest. A gay cabaret owner and his drag queen companion agree to put up a false straight front so that their son can introduce them to his fiancée's right-wing moralistic parents.
Movie Rated - R - Restricted. Children Under 17 Requires Accompanying Parent or Adult Guardian.

To Wong Foo, Thanks for Everything! Julie Newmar (watch now Amazon, Apple TV)
A 1995 American road comedy film directed by Beeban Kidron and starring Wesley Snipes, Patrick Swayze, and John Leguizamo as three New York City drag queens who embark on a road trip. Its title refers to an iconic autographed photo of Julie Newmar that they carry with them on their journey. The film was notable for being the first major Hollywood studio movie to center on drag queens.
Movie Rated - PG-13 - Parents Strongly Cautioned. Some Material May Be Inappropriate For Children Under 13.

The Hours (Watch now on Amazon, Apple TV, Paramount +)

A 2002, Oscar winning American psychological drama film directed by Stephen Daldry and starring Meryl Streep, Julianne Moore, Nicole Kidman, Ed Harris, Allison Janney, and John C. Reilley. "The Hours" is the story of three women, living in different times however their lives intertwine.

Movie Rated - PG-13 - Parents Strongly Cautioned. Some Material May Be Inappropriate For Children Under 13.

Heartstopper (Watch now on Netflix)
A young British coming of age TV series released in April of 2022 follows a schoolboy who falls in love with his classmate. He is joined by his three best friends as they each protect themselves among the unfortunate bullies. Heartstopper was originally adapted from a webcomic and graphic novel by Alice Oseman. Netflix premiered season one and gained instant popularity. This feature received nine nominations and five wins in the Children's and Family Emmy Awards.
TV Rated - TV-14 - Some Material May Be Inappropriate For Children Under 14.
Disclosure Documentary (watch now on Netflix)
A 2020 Netflix Original documentary on transgender depictions in film and television, revealing how Hollywood simultaneously reflects and manufactures our deepest anxieties about gender. Leading trans thinkers and creatives, including Laverne Cox, Lilly Wachowski, Yance Ford, Mj Rodriguez, Jamie Clayton, and Chaz Bono, share their reactions and resistance to some of Hollywood's most beloved moments. Grappling with films like A Florida Enchantment (1914), Dog Day Afternoon, The Crying Game, and Boys Don't Cry, and with shows like The Jeffersons, The L-Word, and Pose, they trace a history that is at once dehumanizing, yet also evolving, complex, and sometimes humorous. What emerges is a fascinating story of dynamic interplay between trans representation on screen, society's beliefs, and the reality of trans lives. Reframing familiar scenes and iconic characters in a new light, director Sam Feder invites viewers to confront unexamined assumptions, and shows how what once captured the American imagination now elicit new feelings. DISCLOSURE provokes a startling revolution in how we see and understand trans people.
NR (Nor Rated) - Some Material May Be Inappropriate (language, brief nudity)
Modern Family (Watch now on Hulu, Peacock, Sling)
Modern Family revolves around three different types of families (nuclear, blended, and same-sex) living in the Los Angeles area, who are interrelated through wealthy business owner Jay Pritchett and his children, daughter Claire and son Mitchell.
TV-PG
Brokeback Mountain (Watch now on Prime Video)
Their acquaintance began in the warm summer of 1963 when cowboys Ennis Del Mar and Jack Twist ended up on the sheep farm of Joe Aguirre. They were looking for work. And under unexpected circumstances, the two men developed an intimate relationship that evolved into a profound but secret bond right under the nose of their families.
Rated R
Will and Grace (Watch now on Hulu)
Gay lawyer Will Truman (Eric McCormack) and straight interior designer Grace Adler (Debra Messing) are best friends living in New York City. Grace is engaged to a real jerk until the relationship falls apart and she moves in with Will. It's supposed to be temporary, until Grace finds her own place, but more and more it looks like a permanent arrangement.
TV-PG
Everything Everywhere All at Once (Watch Now on YouTube Prime)
With her laundromat teetering on the brink of failure and her marriage to wimpy husband Waymond on the rocks, overworked Evelyn Wang struggles to cope with everything, including tattered relationships with her judgmental father Gong Gong and her daughter Joy. She must also brace herself for an unpleasant meeting with an impersonal bureaucrat: Deirdre, the shabbily-dressed IRS auditor. However, as the stern agent loses patience, an inexplicable multiverse rift becomes an eye-opening exploration of parallel realities. Will Evelyn jump down the rabbit hole? How many stars are in the universe? Can weary Evelyn fathom the irrepressible force of possibilities, tap into newfound powers, and prevent an evil entity from destroying the thin, countless layers of the unseen world?
Rated R
Bohemian Rhapsody (Watch now on Max)
Bohemian Rhapsody is a foot-stomping celebration of Queen, their music and their extraordinary lead singer Freddie Mercury. Freddie defied stereotypes and shattered convention to become one of the most beloved entertainers on the planet. The film traces the meteoric rise of the band through their iconic songs and revolutionary sound. They reach unparalleled success, but in an unexpected turn Freddie, surrounded by darker influences, shuns Queen in pursuit of his solo career. Having suffered greatly without the collaboration of Queen, Freddie manages to reunite with his bandmates just in time for Live Aid. While bravely facing a recent AIDS diagnosis, Freddie leads the band in one of the greatest performances in the history of rock music. Queen cements a legacy that continues to inspire outsiders, dreamers and music lovers to this day.
Rated PG-13