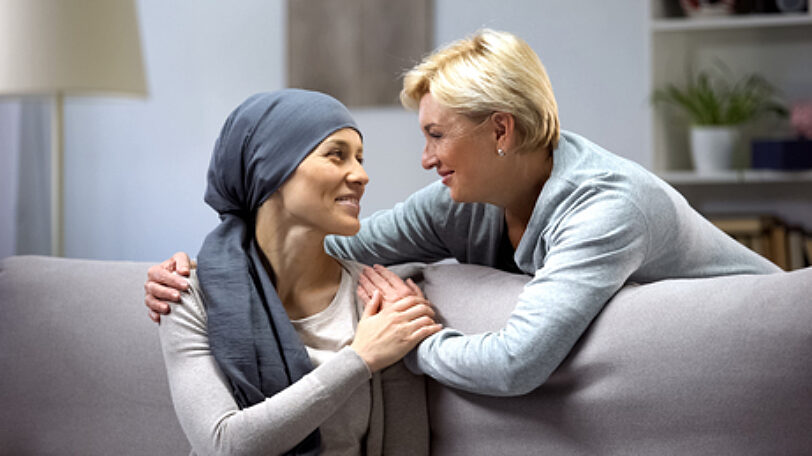 Diagnosis and treatment of cancer can cause significant stress to cancer patients and their families. Our psychosocial program offers services and therapy alternatives to help patients deal with the psychological aspect of treatment.
Diagnosis and treatment of cancer can cause significant stress to cancer patients and their families. While today's cancer care provides cutting-edge treatment, cancer patients still need support in coping with difficult emotions, such as depression, anxiety, and confusion. Additionally, stress can lead to strained relationships, financial problems, and even physical ailments.
For those struggling with mental health issues, either during or after treatment, psychosocial support can be extremely helpful. Psychosocial support comes in many forms and can help cancer patients cope with their diagnosis, find resources, and learn how to talk to family and friends about cancer. Cancer support also helps patients stay on top of their treatment plans and connect with others who have experienced similar challenges.
Psychosocial Problems Related to Cancer
Having cancer or a family member with cancer can be difficult. While distress is a normal response when you or a family member receive a cancer diagnosis, it can lead to feelings of helplessness, sadness, fear, depression, anxiety, and even panic. Distress may become problematic when the following signs or symptoms are present:
Difficulty coping with cancer
Isolation from family and friends
Family dynamics and functional changes
Having trouble making decisions
Feeling down about missing out on activities you enjoy
Issues with work or going back to work
Concerns about money
Feeling stressed about making healthcare decisions
Feeling uncomfortable discussing your feelings
Changes in body image
Grief
Overwhelming sadness, anger, or irritability
Feeling hopeless or worthless
Sleep difficulties
Fearing the return of cancer
Changes in eating habits
Fearing death
Having concerns about providing good care to someone with cancer
Missing treatments

Cancer Survivors and Mental Health
It is common for cancer survivors to struggle with anxiety, depression, and post-traumatic stress disorder. In fact, studies have found that individuals who have survived cancer have a higher risk of mental health problems than those who have never had cancer. Many people worry about cancer returning after treatment, struggle to adjust to life after cancer, and have doubts about navigating their futures after cancer.
Furthermore, family members of cancer survivors may also be affected. The National Cancer Institute estimates that 24% of cancer patients are parents of children under 18. Children with parents that have cancer have a higher risk of anxiety, distress, and other mood changes. Talking to children about cancer can be difficult, especially for young children who might not understand.
Cancer survivors and their families can find relief with psychosocial interventions. Whether it's a support group, individual counseling, or education, survivors and family members can address their emotional symptoms and find solutions for moving forward in life.
What is Psychosocial Support?
Psychosocial support refers to any form of support that protects, enhances, or promotes an individual's mental health or psychosocial wellbeing. It can include education, counseling, group support, spiritual support, and other services. Support can be provided by psychologists, psychiatrists, social workers, psychiatric nurses, pastors, or licensed counselors. Depending on your needs, they can help resolve your issues or refer you to additional resources.
A diagnosis of cancer can be overwhelming and confusing for you and your family members. In addition to physical pain, cancer-related stress can cause emotional turmoil, strain relationships, and result in financial difficulties. Psychosocial support helps patients and caregivers cope with the mental health effects associated with cancer treatment and diagnosis. It can promote confidence, improve coping skills, reduce depression, anxiety, and pain, and help patients adhere to treatment plans.
Individual Counseling
Individual counseling may be suitable if your emotions affect your ability to function normally throughout the day. Also known as psychotherapy or talk therapy, one-on-one counseling offers a private space for you and a trained professional to discuss your concerns and worries. Each person's experience of cancer or that of a loved one with cancer is different. Individual counseling allows you to talk about your own experience, work through difficult emotions, and find solutions for the future.
Individual counseling also provides the following benefits:
Identify your biggest concerns
Develop coping skills for living with cancer
Adapt to changes in your life
Work through symptoms related to cancer treatment
Prepare for the end of treatment
Create solutions for the recurrence of cancer
Resolve family problems and strengthen relationships
Identify and work through challenging emotions
Counseling for couples and families may also be beneficial to cancer patients suffering from family or marital issues. Talk therapy can help couples or family members uncover underlying issues and find solutions for resolving conflict. The more you learn about your partner's or family member's cancer, the better support you can provide. Couples and families dealing with emotional stress caused by caring for someone with cancer can also work through their emotions and feel more at ease.
Selecting a Cancer Therapist
Choosing a cancer therapist depends on your needs. Mental health professionals include psychologists, psychiatrists, oncology social workers, psychiatric nurses, licensed counselors, and pastoral counselors. Each has a different focus and training. Consult your cancer care team if you aren't sure how to proceed.
When selecting a provider, find someone with experience working with cancer patients. A mental health professional who specializes in cancer usually understands how people react to the disease. They can help you accept that your feelings are normal and provide you with insight into what you're experiencing.
Once you have identified a few counselors who may be a good match for you, learn more about them. If possible, call them to discuss your needs and find out whether they can help. This will allow you to understand their style and feel your comfort level talking with them. Asking the following questions may also be helpful when selecting a cancer therapist:
What are your credentials?
What is your experience in working with cancer patients?
Have you worked with people who have my type of cancer?
What can I expect during therapy sessions?
What is your treatment style?
How long are your sessions?
What would you recommend for my condition?
Do you take insurance?
What is the cost per session?
What days and appointment times do you have available?
When you begin meeting with a therapist, make sure you feel comfortable with them. Do you feel safe talking about your concerns? Does the therapist seem like they will be able to help? Do they listen well and understand your needs? Don't hesitate to ask questions during your sessions and let your therapist know if you feel like therapy is not helping. If you feel like your therapist is not a good fit, consider finding someone else.
Support Groups
Support groups connect people facing similar challenges. These groups allow people to share their concerns and learn from others' experiences. Support groups help patients cope with their feelings and treatment side effects. Sharing experiences with others can also help you find solutions and make decisions.
People suffering from cancer can join various support groups, including:
Support groups for specific types of cancer
Support groups for all types of cancer
Support groups for patients receiving certain treatments
Support groups for people who have ended treatment
Support groups for people whose cancer has returned
Support groups for women or men only
Support groups for people in certain age groups
Support groups are also available for cancer patients' families, children, and caregivers. These groups discuss a variety of issues, such as worries about the cancer patient, changes in relationships, and how to support them. Support groups for teens and children are typically divided by age and can include parents.
While some support groups are run by professionals, like psychologists, psychiatrists, or oncology social workers, other groups are led by cancer survivors. Groups that provide education tend to be more structured. Other groups let members discuss anything they want.
Finding a Support Group
For individuals considering joining a support group, the following questions may be helpful in finding the right group:
Who is the group intended for?
Where and when does the group meet?
Are meetings in person or online?
How many people are in the group?
Who leads the group?
Does the group focus more on education or support?
Do I need to talk or can I just listen?
Consider joining a few groups to decide which is the best fit for you. To open up and connect with others, you need to feel comfortable with the other group members and facilitator.
Online Psychosocial Support
As the burden of cancer increases across the globe, a significant number of cancer patients will suffer psychological, emotional, and social distress from their cancer diagnosis and treatment. However, with psychosocial support, cancer patients can learn to cope with challenging emotions and enhance their quality of life.
CHE Behavioral Health Services's team of mental health professionals is committed to addressing your emotional needs throughout your cancer care experience. With compassionate and specialized online support, we help our patients develop coping strategies and resilience during a stressful time.
For more information about psychosocial support for cancer patients at CHE Behavioral Health Services, please call 888-515-3834. We are ready to talk, and ready to listen.