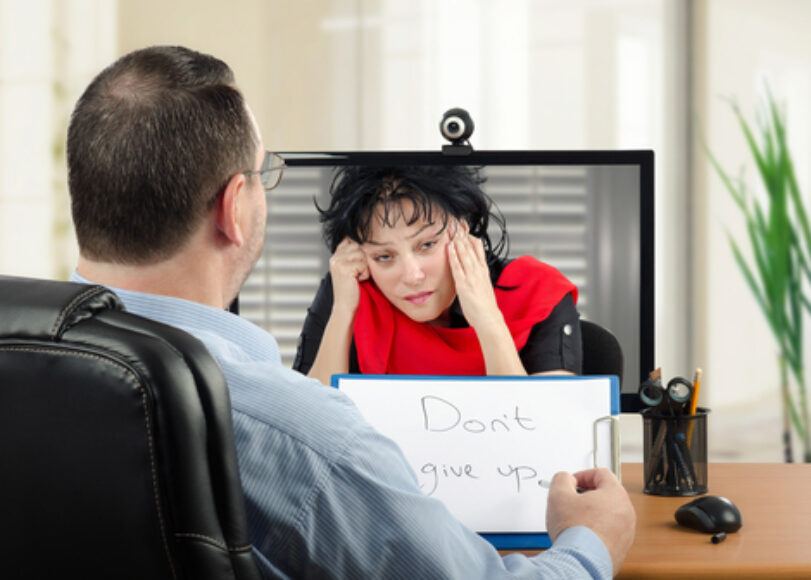 Telehealth lets you get help for depression without having to leave your house. It might be just as good as care in person, but easier to use.
A common cause of disability around the world, depression can have a significant impact on the quality of a person's life. Today, depression is primarily treated with psychotherapy, or talk therapy, and sometimes, medications.
During talk therapy, a mental health provider can help you address the thoughts, feelings, and circumstances that may be contributing to your depression. For severe depression, medication can alleviate symptoms so that you can function better throughout the day.
In the past, therapy and medication management were typically conducted in person. However, with the advancement of technology, depression can now be treated remotely through telehealth services.
As the need for depression treatment continues to rise, telehealth therapy offers individuals many advantages over traditional in-person therapy, such as more convenience, greater flexibility, affordable treatment options, and a comfortable setting.
Telehealth removes barriers associated with accessing and receiving treatment.
Many barriers can get in the way of people receiving the treatment they need. Time limitations, transportation issues, and lack of local providers are all factors that can hinder a person's ability to attend therapy.
Even having certain medical conditions can create limitations for leaving the house and driving to an in-person appointment. If you have depression, there may be days when you feel tired and unmotivated to get out of bed and commute to a physical location.
With telehealth therapy, individuals are no longer restricted by these barriers, enabling them to attend therapy sessions from the comfort of their homes. You can meet with your mental health provider using a computer, tablet, or phone with internet access.
At CHE, appointments take place in a video chat or over the phone. With more mental health services available, those with depression now have easier access to a variety of effective mental health services.
Virtual depression treatment is just as effective as in-person appointments.
Despite teletherapy's growing popularity, some still question whether it is as effective as in-person therapy. In terms of effectiveness, remote visits have been proven to be very beneficial. In fact, research shows that telehealth sessions are just as effective for treating most types of depression as in-person sessions.
According to some studies, telehealth therapy may even be more effective for treating depression due to its easy access, comfort, and convenience. People with depression who attend telehealth therapy sessions often experience high satisfaction levels, and many prefer telehealth over conventional in-person sessions.
Online telehealth appointments are very similar to in-person appointments. Just like in-person therapy, your care will be provided by a trained mental health professional who specializes in treating depression.
They could be a psychiatrist, psychologist, licensed therapist, or nurse practitioner. Through video chat, you will be able to see and communicate with your provider.
During a telehealth session, you can discuss your concerns, talk about your feelings, and ask your provider any questions you may have.
Your mental health provider will help you work through difficult emotions, uncover negative thought patterns contributing to your depression, and help you develop important coping strategies you can apply to everyday life.
If you are on medication for your depression, your psychiatrist or nurse practitioner will be able to discuss your dosage and order a refill if needed.
Virtual visits are more convenient.
Insufficient time is one of the most significant barriers to mental health care. Many people work, attend school, juggle a family, or are caregivers to others. Some people may also travel out of town frequently for work.
It can be challenging to make therapy appointments consistently when you're busy. In addition, people with depression may have difficulty attending in-person appointments. Having depression can affect your energy and motivation and contribute to other physical ailments that may make leaving the house challenging for some. For this reason, telehealth therapy is often more convenient than traditional in-person appointments.
Telehealth therapy offers more flexible scheduling options. For example, without driving to a physical location, you can now fit a therapy session in during your lunch break, while your child is taking a nap, or other hours of the day when you might have some downtime.
In addition, with hundreds of mental health providers across the country, there are often more options for scheduling appointments throughout the day, including evenings and weekends.
If you have depression, you no longer have to stress about leaving your house. When having a day where you are feeling extra down, or maybe when you don't have the energy to get out of bed, telehealth therapy allows you to connect with your therapist instantly from a place you feel most comfortable at home.
Online depression treatment can be more comfortable.
Sharing your thoughts and feelings with a new therapist can sometimes be intimidating. For others, leaving the house or even their bed to go to their appointments can be a source of stress and anxiety.
If added stress and anxiety interfere with your depression treatment, telehealth therapy can provide the same effective treatment in the comfort of your home.
With telehealth therapy, people no longer have to worry about leaving their homes. Instead, they can speak with their mental health provider in any location they choose.
Whether in a favorite chair or a quiet room, this extra level of comfort can ease stress and create a more positive therapeutic experience.
Many report that the extra level of comfort and convenience can make it a little easier to open up about their thoughts and emotions to a therapist.
Telehealth could be more cost-effective.
The cost of therapy is an important consideration when seeking treatment for depression. If in-person therapy sessions seem cost-prohibitive, telehealth therapy may be more affordable. Telehealth services are often less expensive than in-person therapy because they do not require travel or office space. 
More and more health insurance providers are also now covering telehealth services as the demand for depression treatment rises. In addition, having more affordable mental health care may allow some people to see their providers more frequently.
This could be extremely helpful for managing symptoms in individuals that suffer from severe depression.
If you are considering telehealth therapy for the treatment of depression, contact your health insurance provider first to see if they cover telehealth therapy. You can also check to see if you have any copays.
If your insurance provider does not cover telehealth therapy or you have a copay, many mental health providers offer a variety of payment plans to fit your individual needs.
Access to treatment for depression can be increased through the use of telehealth.
Unfortunately, not everyone has the same access to mental health care. For example, if you live in a rural area, you may only have access to limited providers in your area.
When living in a remote location, you may need to drive long distances to appointments. Some people may also not have reliable transportation.
All of these things can significantly affect someone's ability to attend in-person therapy appointments. Without access to in-person mental health services, many people do not receive the depression treatment they need.
With telehealth therapy, however, more and more people across the nation now have access to affordable, convenient, and effective care.
As long as an individual has access to the internet, they can log in from any location and receive the same professional care as in-person therapy. If you have a disability or do not have a car, you can speak to your therapist without worrying about commuting.
For rural locations that do not have mental health services or have limited providers to choose from, telehealth therapy provides access to hundreds of providers across the country in a wide range of specializations. This allows you to more easily find a therapist you feel comfortable with and is best suited to your needs.
Teletherapy at CHE Behavioral Health Services
Depression can sometimes feel impossible to overcome, and when left untreated, it can affect your ability to function throughout the day. If you are experiencing symptoms of depression, there has never been an easier time to seek treatment.
Today's telehealth therapy services offer greater access to affordable, convenient, and effective treatment of depression and other mental health conditions.
At CHE Behavioral Health Services, we offer professional telehealth therapy services to help treat your depression successfully and get you back to living a more fulfilling life.
With an extensive network of experienced mental health professionals, we offer personalized treatment programs that work around your schedule and cater to your specific needs.
To learn more about the telehealth treatment options offered at CHE Behavioral Health Services, please call 888-515-3834.