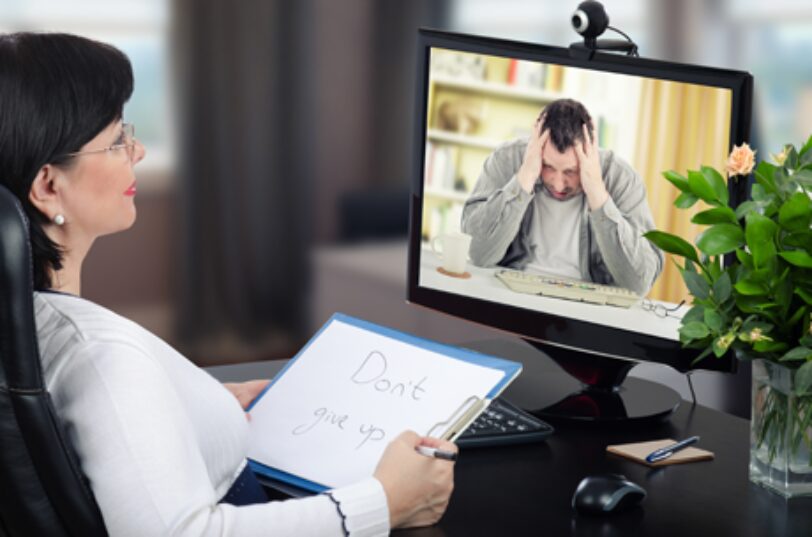 For people who cannot get to a therapist due to depression, online depression therapy is available. Via Facetime or Skype.
Studies estimate that almost 18 million Americans have experienced depression within the last year. As depression rates continue to rise, so does the need for mental health services. Unfortunately, many in-person clinics are struggling to take on new patients, so people often have long waits to receive care. To meet the growing needs of the public, online therapy has grown significantly to treat individuals suffering from depression and other mental disorders.
Online therapy is a form of professional mental health counseling performed through the internet. Rather than traditional face-to-face sessions, online counseling can utilize email, text messaging, video conferencing, online chat, and the phone. In addition to offering effective treatment, online therapy offers convenient and affordable solutions for treatment of depression, stress, anxiety, grief, and other conditions.
Does remote therapy work for depression?
The rise of online therapy may have you wondering whether it is as effective as traditional in-person therapy. However, according to research, online therapy programs have been shown to be just as effective as face-to-face therapy. Additionally, they offer many benefits for individuals who are inaccessible for in-person appointments.
When starting a new therapy program, factors such as transportation, social anxiety, cost, and the stigma of seeking therapy may cause stress and make an individual feel apprehensive. Eliminating these factors through online treatment allows individuals to feel more relaxed before their appointment, making online therapy just as effective, if not more.
Cost and convenience can significantly affect a person's ability to receive care for depression. Because of this, many people facing debilitating depression do not get the care they need. With more affordable options and flexible scheduling, online therapy offers greater accessibility for patients needing care. As a result, more people are receiving the care they need.
How much does online therapy cost on average?
Just like in-person therapy, fees for online treatment can vary. A session's length, type of therapy, and the therapist's training can all affect the price. Most insurance plans help cover the cost of online treatment today. If you don't have insurance, sessions typically cost anywhere from $70 to $150 per session. For questions on coverage, contact your insurance provider to find out if you have a copay or deductible.
Can online therapists diagnose you?
As with in-person therapy, a variety of mental health professionals can diagnose depression and other mental health conditions online. These providers may include psychiatrists, psychologists, primary care doctors, nurse practitioners, and licensed counselors, in some states. To properly diagnose your condition, you may need to attend a number of therapy sessions.
While many providers can diagnose depression, not all can prescribe medication. If your treatment plan requires medication, you will need to see a psychiatrist, primary care doctor, or nurse practitioner. Depending on your needs, you may need to work with more than one provider to receive medication and therapy.
Is online depression therapy safe?
Despite online therapy's growth, many people remain concerned about its effectiveness and privacy. Not online is online therapy safe, but it can be highly effective for people experiencing depression and other mental health conditions.
As with in-person therapy, seeking treatment with a reputable online mental health organization will also give you access to licensed mental health professionals with extensive experience in treating depression. These mental health professionals are trained to follow HIPAA guidelines to ensure your personal information is safe and private. Video chats and personal data are also medically encrypted to guarantee online security.
Just like in-person therapy, mental health professionals can still incorporate a variety of treatments online. Many people find that taking from the comfort of their home can help them open up to their therapist easier for more effective sessions. Additionally, having more accessibility and flexibility with scheduling can help patients stay compliant with their complete care plans.
What are the benefits of online depression therapy?
In recent years, online therapy has rapidly expanded due to its accessibility and ability to accommodate a variety of patient needs. There are many benefits to online therapy. The most notable benefits include:
Accessibility
Distance, location, the ability to drive, and certain medical conditions may all affect someone's ability to receive in-person therapy. When in-person therapy becomes inaccessible, online therapy can help individuals access a therapist through a phone, tablet, or computer.
Time
Many people struggle to find the time for therapy in today's busy world. If you're a parent, work irregular hours, or can't find the time in the day, online therapy may be right for you. By going online from your phone or computer, you can save time commuting to the clinic and fit appointments in more easily.
Privacy
If you're concerned about running into someone you know in the waiting room, online therapy can provide a higher level of privacy. In addition, therapists and the software they use always put security first and comply with HIPAA regulations.
Comfort
Starting therapy and expressing their feelings to someone new can be uncomfortable for many people. However, being at home in a familiar and comfortable space may make discussing difficult emotions and experiences easier. Through online sessions, individuals can undergo therapy in a cozy chair at home or cuddle up with a familiar blanket.
Cost
Cost is one of the most significant factors that affect a person's ability to access therapy. While many insurance policies cover treatment, some people may not have insurance or the ability to cover the copay. Compared to in-person therapy, online therapy is often more affordable. Check with your insurance provider to determine if your policy covers online treatment.
Improved Insights
Online therapy can help your therapist gain valuable insight into your home environment. More information about your daily environment can help your therapist develop more effective treatment approaches. Additionally, online therapy may be more convenient for including other family members in therapy sessions.
Social Distancing
In times of illness or spreading diseases, online counseling can help you accomplish social distance more effectively. Although pandemics may limit in-person appointments, online treatment will still take place and provide a safer environment.
No Travel Restrictions
Online therapy is an excellent option for people who often travel for work or fun. As long as you have access to your phone or computer, you can log in from any location without having to cancel or reschedule your appointment.
How long does the first therapy session last?
The first session with the therapist will likely differ from future sessions. During your initial visit, you and your therapist will get to know each other and discuss what goals you hope to achieve through treatment.
In the first session, your therapist will likely go over:
What symptoms you have
Your reasons for seeking therapy
How your depression is affecting your life
Past traumas and your childhood
Details on work, school, family, and current living situation
Your medical history and medications
The first session may take longer to gather important information, but sessions typically last anywhere from 45 to 60 minutes. Make sure you have all the necessary paperwork completed before your first appointment. Most online programs will allow you to fill out your paperwork ahead of time online.
How many therapy sessions do you need?
The length of therapy depends on the person's condition and therapy goals. While some people may only need a few sessions, others may require long-term care that lasts weeks or even years. For example, someone feeling extra stress may only warrant a few sessions, while chronic depression with suicidal thoughts may require months of ongoing care.
In many cases, significant improvement can be made in 10 to 15 sessions. Treatment for depression is an individualized process, and a therapist will build a plan according to the patient's needs.
Signs to Seek Therapy for Depression
It's common for people to feel sad or down from time to time. When loss or unexpected challenges occur, feeling down is a normal reaction to life. However, prolonged sadness that lasts several days or weeks may indicate depression and require help to overcome it.
Here are the top signs that suggest a person may need therapy:
Difficulty with regulating emotions
Sleep disturbances
You feel helpless
Intense feelings of sadness, anger, or irritability
Decline in physical health
Unexplained weight loss
Changes in eating behaviors
Withdrawal from friends and family
Alcohol or drug abuse
Loss of interest in activities once enjoyed
You recently experienced a trauma
Nothing else has worked
Untreated depression can have several implications on a person's life. If you or a loved one are experiencing any of the above symptoms, it may be beneficial to make an appointment with a mental health professional as soon as possible. When you or a loved one begin to experience feelings of self-harm or suicide, seek medical attention immediately.
Online Depression Therapy at CHE
Depression and other mental health conditions can be effectively treated through online therapy. With convenient scheduling and affordable options, individuals can now receive high-quality care from the comfort of their homes.
A leader in online teletherapy, CHE Behavioral Health Services offers a variety of treatment options from highly-qualified psychiatrists, psychologists, nurse practitioners, and related mental health professionals.
To learn more about our online depression programs, please call 888-515-3834.