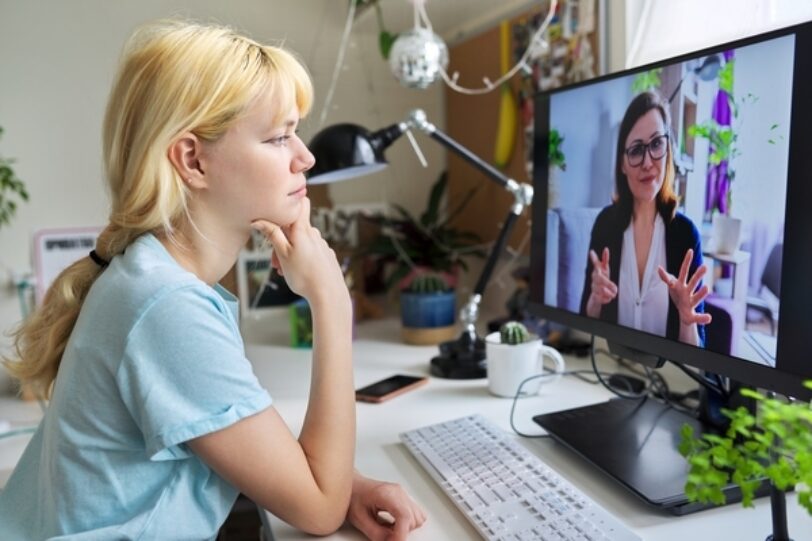 As the incidence of mental health issues such as depression, anxiety, and sleeplessness rise in the United States, more people are seeking help.
In recent years, technology has greatly impacted almost every aspect of our lives. Besides connecting with friends and family, learning, scheduling appointments, and even shopping, counseling is now another important service that can be accessed through the internet.
Due to its many benefits, online psychological counseling has grown in popularity over the last few years. Like in-person counseling, online psychological counseling is provided by a licensed mental health professional and takes place through video chat or over the phone.
With convenient appointment times, effective treatment options, greater accessibility, and affordable care, treatment is now more available than ever. Therefore, many more people are able to access and benefit from these services. If you're considering online psychological counseling, here are some of the benefits of online treatment and how it can help you.
A Rise in Mental Illness
In the last decade, mental health problems have become more prevalent. From stress, depression, anxiety, and other mental health conditions, more and more people are seeking help to reduce their mental health symptoms and improve their quality of life.
With the rapid influx of new patients, however, many in-person mental health clinics now have long wait times and do not have the staff to support patient needs.
As a result, online psychological counseling has grown rapidly to meet the high demand for mental health services.
With flexible scheduling and access to a diverse group of trained mental health professionals, online therapy offers lower wait times while also offering equally effective care.
Social Distancing
The spread of COVID-19 has prompted a significant shift toward virtual medical treatment in the last few years.
Social distancing guidelines forced many medical providers to turn to telehealth as a means to treat patients and reduce the spread of disease.
While social distancing guidelines have eased, many are still concerned about the spread of COVID-19 and other illnesses.
When individuals feel hesitant to meet face-to-face, online therapy can offer a more effective solution while still social distancing.
By attending therapy from home, people can avoid in-person interaction. With fewer concerns related to social distancing, people often feel more comfortable and enthusiastic about starting online counseling.
More Insurance Coverage
Until recently, many insurance companies would only cover in-person counseling. However, increasing demand for mental health treatment and the COVID-19 pandemic have led to more people seeking telehealth services.
In response, many insurance companies have begun covering this service. While the COVID-19 pandemic has eased considerably, online psychological counseling is here to stay and is growing more than ever.
With more insurance companies covering online mental health therapy, more people can afford and access effective treatment options and get the care they need.
Less Stigma
Studies show that around 1 in 5 Americans are suffering from a mental health condition today. As mental health issues become more prevalent, especially during the COVID-19 pandemic, so does the need for mental health services.
With more and more people seeking mental health services such as therapy, and/or medication, the stigma once associated with mental health has begun to fade.
While mental health services are in great need, online psychological counseling has been an effective and convenient way for many people to receive support.
In addition, for individuals who may be concerned about the stigma surrounding mental health, online therapy ensures a level of privacy that may not always be available for in-person sessions.
More Convenience
Attending in-person therapy appointments can sometimes be difficult, especially when you have a busy schedule. From a hectic work schedule to taking care of children, many people struggle to find the time to make regular appointments in today's busy world.
A lack of reliable transportation can also affect a person's ability to attend therapy sessions. Additionally, people with medical conditions or severe mental health disorders may find it difficult to attend therapy sessions in person.
With online psychological counseling, however, people can conveniently attend therapy sessions from the comfort of their homes.
As a result, they can save time without having to commute and benefit from flexible appointment times that fit into their schedule. Many people also find that attending sessions from a home setting helps them feel more comfortable and open to talking with a therapist.
Greater Accessibility
In the past, mental health services have not always been readily accessible to everyone. People living in rural areas may have limited access to mental health clinics. Furthermore, a lack of internet access has made online therapy inaccessible to many people.
However, as the internet expands across the country into rural areas, more people can attend online psychological counseling sessions.
With the advancement in technology, people can also access appointments through their phones, tablets, or laptops.
In addition, individuals who do not live near a mental health clinic can instantly access hundreds of mental health professionals that offer effective treatment online.
Affordability
One of the biggest reasons someone may not seek psychological counseling is the cost. If you have a limited budget and in-person therapy seems expensive, online therapy may be a good alternative.
The cost of many online therapy programs is often a fraction of traditional in-person counseling. Specific counseling programs may also offer a variety of payment options.
Affordable counseling does not mean less effective care. Just like in-person counseling, online psychological counseling provides access to a variety of experienced and highly-skilled mental health professionals.
As a result of more affordable treatment options, millions of Americans now have access to the care they need.
Effectiveness
As the demand for mental health services increases, online psychological counseling is becoming more popular because of its affordability, low wait times, and flexibility. However, many people still view online counseling with skepticism, fearing it won't be as effective as face-to-face counseling.
Despite these concerns, studies consistently show that online psychological counseling can effectively treat many different mental health conditions.
Online counseling is conducted by licensed mental health professionals with exceptional experience treating various mental health conditions such as depression, anxiety, and grief.
Similar to in-person counseling, mental health professionals can utilize a variety of techniques to reduce symptoms and improve quality of life.
Greater Selection
If you live in a rural area, you may have limited access to different types of mental health providers.
While psychiatrists, psychologists, counselors, medical doctors, nurse practitioners, and other mental health professionals are all trained to treat various mental health conditions effectively, some may be more suited to your particular needs.
Finding a provider specializing in treating your condition and who you feel comfortable talking to can help you receive the highest quality of care possible.
If your area is limited in treatment options, online psychological counseling offers individuals greater access to a variety of mental health providers.
With a few clicks, you can now search and schedule appointments with mental health professionals specializing in treating your condition.
More options allow you to find a therapist most appropriate to your individual needs. In addition, it is easier to change providers if you feel like they are not the right fit.
Personal Preferences
In the age of technology, many people have become accustomed to using computers and smart devices daily.
When choosing between in-person or online psychological counseling, many people prefer online therapy due to its ease of use, flexibility, privacy, and effectiveness.
In addition, online therapy can provide a more comfortable setting for individuals who feel intimidated attending in-person sessions.
Individuals can choose a cozy room, curl up with a blanket, and reduce stress by not having to drive to appointments. Feeling less stressed and relaxed during your appointment can help you open up to your therapist more effectively.
Finally, online psychological counseling may work well for individuals that travel frequently. With the ability to connect from anywhere that has internet access, individuals can connect with their therapist without having to miss appointments.
This allows you to adhere to your care plan and progress in your treatment more effectively.
Online Psychological Counseling at CHE
Whether you're experiencing difficult emotions, need support during a major life transition, or just want to become a better version of yourself, online psychological counseling offers access to effective, convenient, and affordable care.
With over 850 psychiatrists, psychologists, nurse practitioners, and other licensed mental health professionals, we offer a variety of treatment options and are committed to helping you achieve your mental health goals.
To learn more about online psychological counseling at CHE Behavioral Health Services, please call 888-515-3834. We are ready to talk, and ready to listen.